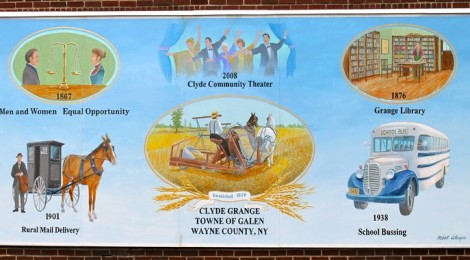 Grange Mural
Located at:
16 E. Genesee Street, Clyde New York 14433
On the west side of the Grange building which is on the North side of the street.
CLYDE GRANGE P. of H. # 33
Clyde Grange P. of H. No 33 was incorporated on January 30, 1875 with Benjamin Weed serving as the first Master. It was originally formed to support area agriculture and farming. Women of the Grange were given equal rights at organization's inception, holding offices and positions previously held only by men and preceding gains of Women's Rights Movement.
The Grange created the first library in Clyde on May 27, 1875 with William and Edith McLachlan serving as the first Grange librarian and assistent librarian. When the Galen Free Library was later formed the Grange library books were turned over to it. The Grange formed a co-operative fire insurance company in 1877 known as the Fire Relief Association of Wayne County to serve the needs of area Grangers. The name of the Company was later changed to the Wayne Cooperative Insurance Co. and serves both Grangers and non-Grangers.
Over the years the Grange has been responsible for the institution of rural free mailing delivery, was involved in school busing for rural areas and has worked with Cornell University on agriculture education to the benefit of Town of Galen farmers. The Grange building was constructed in 1930, and Clyde Grangers have used it since in their support of local agriculture, farming and continue to use it in support of Clyde community events.
The mural was created by Robert Gillespie 2009