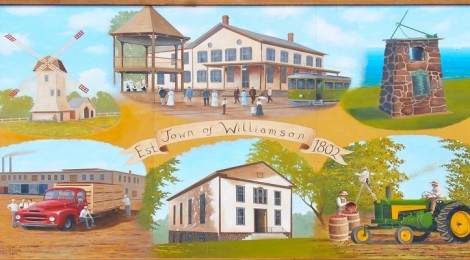 History of Williamson Mural
Located at:
4090 Ridge Road, Williamson, NY 14589
On the east side wall of building on the South side of the street
Memories of Williamson Mural
Commissioned by the Williamson Chamber of Commerce
Mural scene descriptions:
As a representative of Williamson's Dutch heritage the Windmill Vacation Cabins in East Williamson had a replica of a working windmill as it's center of attraction. Circa 1960's.
Early 1900's Main Street shows the two-story gazebo bandstand, Hotel Williamson and the trolley that ran from the City of Rochester to Sodus Bay via Ridge Road.
The Lake Captains of Pultneyville Memorial was erected in 1935 and lists twenty-seven lake Captains, their schooner's name and the year they took command of the vessel.
 K.M. Davies Co., Inc., a local cold storage and controlled-atmosphere facility, was established in 1914 and is located on Lake Avenue. This scene shows growers waiting to unload their apples at the warehouse. Circa  1950s.
 Gates Hall located on Lake Road in Pultneyville was built in 1825 and is designated the second oldest theater in America by the Library of   Congress.
 Apple Harvesting – Agriculture, produce processing and storage are Williamson's major industries. Wayne County, in which Williamson resides, is the number one apple producing county in New York State.
Artwork done by Wayne County Artist James Zeger
Dedicated September 26, 2012