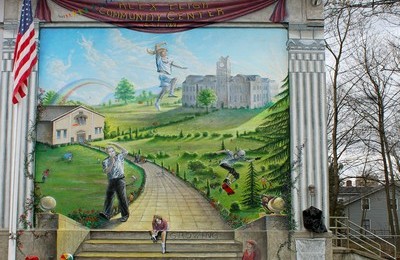 Alex Eligh Community Center Mural
Located at:
303 East Avenue, Newark New York 14513
On the side of the Alex Eligh Community Center building which is on the west side of the street.
                                                                             ALEX ELIGH
                                                                       "A Pillar of Newark"
In 1917 this was the first official school gymnasium. When Washington School closed in 1940
alumni thought it would make a great place for a community center. In 1941 the Newark Community Center opened.
Alex Eligh was director from 1948 – 1974. Alex was highly respected by the youth of Newark and is known for his
establishment of some of the first organized teams.
In 1970 the Center was renamed the "ALEX ELIGH COMMUNITY CENTER"
Artwork by Corky Goss & Chip Miller                                2009