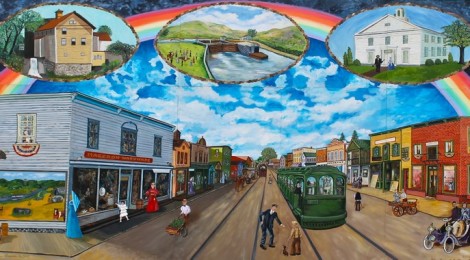 They Walked Before Us Mural
Located at:
105 W. Main Street, Macedon, NY 14502
Located on the east side of the building which is on the south side of the street
"They Walked Before Us"
The mural includes a Main Street scene circa 1910, detailed panels of the Macedon Mills, Macedon Academy, and one of the canal locks from the mid-19th century. A special feature is a mural within the mural, representing the Native Americans who lived in the area. Also included is a scene of a trolley that went from Rochester, through Main Street Macedon and onto Syracuse.
Artwork by Michael Buell & volunteers                         August 2010