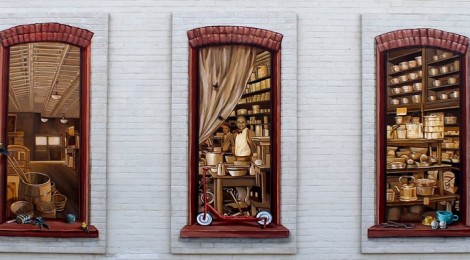 Clyde Hardware Mural
Located at 87 Glasgow St., Clyde NY 14433
It is on the north side of the Clyde Hardware building which is located on the east side of the street.
Looking in and looking back….
Part of the Clyde Skyline for over a century, the corner building at 87 Glasgow Street was erected in 1851 by S.S. Briggs. Over the years it has been home to the A. E. England and Ben Franklin variety stores, the P&C and Grand Union grocery stores, the telephone office, Ketchum's Market, Morrison Appliance, the Clyde Masonic Lodge and for over 50 years, the Clyde Times newspaper.
85 Glasgow Street was erected in 1869 by A.E. Adams and has been home to Sherman Drug Store and hardware stores run by Guy H. Roy, William Kaiser and George Lewis. Ron and Jane Robert purchased the hardware store in 1974, renaming it Clyde Hardware, opening it to the corner building in 1984 and continuing to operate the expanded store since.
This mural represents the business that has existed there since the late 1800′s.
Mr. & Mrs. Roberts purchased the hardware store over twenty years ago.  It came with a pretty good selection of antique and vintage items, a collection that the Roberts added to over the years in the hopes of someday opening a museum. When Mr. Roberts passed away, his collection was gradually sold off. What was left proved to be a treasure trove of photo reference, a fascinating look into the past that would become part of the mural.
Mr. Roberts is memorialized in the painting, taking the place of a 19th century store clerk. I think that would have made him happy!
The most challenging element of this painting was the window frame, one of the areas that I thought would be the simplest to accomplish.  It's just a bunch of vertical lines, right? But those narrow bands of color are solely responsible for creating the depth of the window. In the end, pairing a bright warm edge with a cool purple interior and highlighting the sides provided enough contrast.
This pristine, never-used red scooter gives a good dose of nostalgia as well as a shot of brilliant color. A wooden pulley, fiesta ware, wrenches and snaffle bits are a nice cross section of what you might have purchased at Clyde Hardware in 1858, or 1962…. and it's not too different from what you'll find there today. Housewares, tools, paint… not much has changed!
Artwork by Stacy Kirby   Sept. 2009