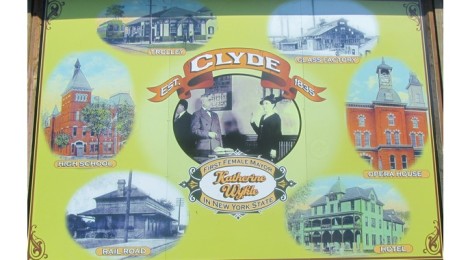 First Woman Mayor Mural
Located at 47 Glasgow St., Clyde NY 14433
It is in the Heritage Park on the south side of the Law Office building which is located on the east side of the street.
This mural honors former Clyde Mayor Katherine Wykle, the first woman elected to head a New York state village government. She served two terms as mayor.
The murals also depicts Clyde landmarks. The trolley scene shows the Rochester Syracuse and Eastern Trolley Station (near the current high school) completed in 1908 and closed in the 1930s. The Clyde Train station circa 1904 was located near the present railroad tracks bordering the canal. The Clyde Hotel was erected on the corner of Glasgow and North Park Street in 1884 and this massive structure was torn down in 1958. The cornerstone for the Clyde High School was laid in 1874 and its first annual commencement was held there in 1883. The last senior class to study in the building was the class of 1940. Between 1943 and 1946 the building and grounds were used as a prisoner of war camp. The building was torn down in the early 1970s. The Clyde Glass Works opened in 1828, seven years before the Village of Clyde was incorporated. Window glass was the first product made. Bottle-making began in 1864 and continued until 1915. The fires were started up again in the building two years later for the making of decorative glass items, a business that survived into the 1920s. Also shown is the Clyde Opera House circa 1911 (also used as the town hall) which was used for vaudeville acts, boxing matches and theatrical performances such as Uncle Tom's Cabin.
The mural was a joint effort between the village of Clyde, the town of Galen, the Clyde Chamber of Commerce and the Galen Historical Society. All of the images on the mural, designed by Gus Paul Arnitz of Clyde, were taken from postcards belonging to the society
Artwork by Gus Paul Arnitz           2011