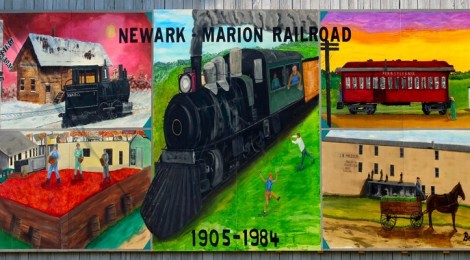 Newark-Marion Railroad Mural
Located at 3631  Newark Marion Road, Marion NY 14505
Located on a barn across the street from the address above.
Newark-Marion Railroad
Why the Newark-Marion Railroad?
The mucklands of Marion were among most productive soils for growing fruits and vegetables.  Farmers needed to move large amounts of goods for consumers around the country so the idea of the Newark-Marion Railroad was born in 1900. The 8.19-mile railroad moved both agricultural products and passengers.  The "Peanut," a small engine, was a favorite among the townspeople.  The engineers and conductors connected with the children as they tossed candy and goodies to them on their way between towns. In 1930 the railroad transported 875 cars of celery, 200 cars of carrots, 100 cars of onions, 150 cars of canned fruits and vegetables as well as apples, pears, beans, and even cider and vinegar.  Other businesses such as cold storage, canning and processing were soon growing here as well.  The Newark-Marion Railroad not only connected Marion to other parts of the country but it brought a sense of community to a small agricultural town.  That sense of community is still evident today.
Artwork by Bev Owen   2014